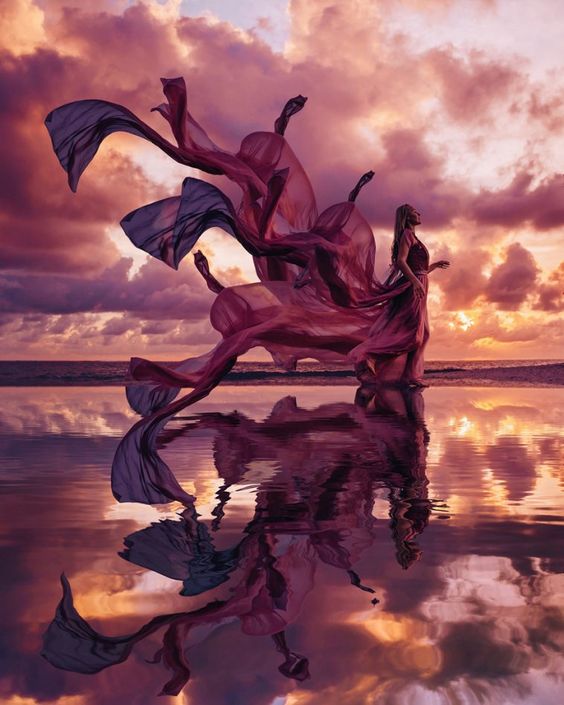 Swim inward, Swim outward—Sun in Pisces—February 18th
So, this is how you swim inward. So, this is how you flow outwards. So, this is how you pray―Mary Oliver.
For those of us who like our lives anchored by certainty, the world may seem a precarious place right now. As our plans are sucked into the undertow, we may be cast adrift from the raft of our faith.
The Sun enters Pisces on February 18th. In the archetypal journey around the zodiac, we're invited to wear our mermaid tails and adorn our hair with sea shells. In Pisces, we dive deep into opaque waters where music and poetry melt walls that divide. We may experience, in the words of Eckhardt Tolle, "all things that truly matter―beauty, love, creativity, joy, inner peace―arise from beyond the mind."
Pisces is not an easy constellation to see with the naked eye. And in our birth chart, Pisces planets or the house with Pisces on the cusp, may be concealed by louder or more overtly visible planetary archetypes. A rumbustious Aries Sun or dutiful Capricorn Moon may be more comfortable in a world where we compare, compete, and have a "nice day". Julia Cameron, writes, "The voice of our original self is often muffled, overwhelmed, even strangled, by the voices of other people's expectations."  We may hesitate at the water's edge, admiring other people's creativity, their altruism, their faith. We may disown our Pisces planets as the outer world presses it's concerns into the sanctum of our intuition. We may not notice the signs and the symbols and pack away our childish magical thinking and innocent imaginings.
Perceptions may shift, new insights may wash to the shore of our consciousness, or ambiguity, uncertainty and confusion may swirl around us as we swim in uncharted waters.  A faerie-circle of golden spring crocuses waiting expectantly for the bees may remind us that everything is interconnected.  A homeless woman, hollow-eyed, thinner than her beloved dog, may stir our compassion. The mute suffering of factory-farmed animals may compel us to be more discerning about the food we choose to buy. Searing temperatures, drought and fire, may prompt community spirit.
Pisces is where we journey to those soulful regions of our psyche, those places where we encounter mysterious daimons, and where powerful currents of emotion  surge like a rip-tide, shattering our peace, bringing us to our knees. In this underwater realm, we hear the songs of the whales, the whisper of the sea grasses, the prayers of our ancestors who lie full fathom five.
As we immerse ourselves into this sphere of water this month, there are sea changes that reflect the swelling tide of worldly events.
Chiron changes sign, moving from Pisces into Aries on February 18th. Chiron's story is a tragedy. In-spite of his goodness, his wisdom, his generosity, he is accidentally wounded.
Chiron, in our birth chart,  represents that place where we are maimed, irrevocably scarred, by the unfairness of life, where we discover that bad things do happen to extremely good people and that what goes around doesn't always come around in any satisfactory or just kind of way.
Chiron will remain in Aries until 2027, having emerged from Pisces and bringing out from the murky waters an existential pain, a reminder of our human flaw, perhaps the guilt or sense of unworthiness we thought we had dealt with in therapy years ago. Collectively, Chiron in Aries necessitates a brave and radical approach and understanding to the problems that plague us personally and globally. Chiron was in Aries during the "Roaring Twenties" which brought prohibition, Jazz and the Charleston. The babies born to sexually free, bobbed haired mothers, were raised in the hard knock time of the euphemistically named, "Great Depression".
Chiron was in Aries from the late sixties to 1977—as students protested and napalm in Vietnam scorched the earth. This was the turbulent time of the counter culture movement and the assassination of Martin Luther King Jr. As Black Consciousness stirred in South Africa, a tide of frustration broke through the cement walls of apartheid, and the Soweto student uprising on June 16th 1976 marked the beginning of the end of a system that has left a ridge of scar tissue on the psyche of a nation.
On February 19th the Full Virgo Moon (0° Virgo) casts her discerning light over our human foibles, pares down our wishful thinking with her keen intelligence and attention to detail. The zero degree of this lunation is significant. It marks the culmination of a cycle and the beginning of a new one as the Moon trines Uranus at 29 degrees Aries and forms a quincunx with Chiron. Our healing journey has only just begun. Virgo represents the self-possessed Feminine aspect of ourselves. Virgo is associated with the earth, with our care for all living things. Without any fanfare, she gets to work, cleans up the mess, weeds the garden. Then plants one precious seed at a time. This Full Moon illuminates the polarity between Pisces and Virgo. It is also a reminder of the precision, the  perfect timing of nature, as we marvel at a convent of wimpled snowdrops, or a robin's egg nestled in the mossy curve of a branch.
On Sunday, February 10th, Mercury dipped into the deep waters of Pisces (11°) and will join Neptune in a phosphorescent conjunction at 15° Pisces on February 19th.
In Pisces, Mercury drapes our dreams in silken images that sparkle and inspire. He withdraws from worldly concerns, submerged in fantasy, delighting in music, art or poetry. He aids emotive expression of our thoughts, our feelings, our heartfelt concerns. Yet, we can also be prey to delusion, confusion and misunderstandings in those deep and often murky waters where the two fish swim.
By March 5th, Mercury is moving slowly. He stations, and goes Retrograde, moving right back to that conjunction with Neptune from March 24th to April 2nd. He remains in Retrograde until March 30th and will enter the fire of Aries on April 17th, an opportunity to suspend our skepticism, to re-write the narrative of our lives and move toward "what if" … "what could be" …
There's a much-quoted passage in Alice Through the Looking Glass, where Alice says to the White Queen, "There's no use trying…one can't believe impossible things."
"I daresay you haven't had much practice," said the Queen. "When I was your age, I always did it for half-an-hour a day. Why, sometimes I've believed as many as six impossible things before breakfast."
As Jupiter blazes confidently through Sagittarius this year, we may have ample opportunity to dream our wildest dream, to practice believing six impossible things before breakfast. To test the validity of our optimism for the third and final time in September 2019 when Jupiter and Neptune make their final square.
Our challenge will to remain alert to the moray eels, the sharp shards of shell concealed beneath the opaque waters of Pisces.
As the tethered fish of Pisces draw us deeper, may they guide our prayers and direct our faith, so that we can hold on tight to our dreams.
For private astrology consultation, please email me: ingrid@trueheartwork.com
I post regularly on Facebook. If you would like to receive these posts, I will send these updates to you, with Love.